Hike along gorgeous coastlines; discover forests and waterfalls; drink in mountain panoramas and connect with culture and wildlife on this all inclusive luxury walking tour.
During this luxury walking holiday you will have a chance to explore the spectacular landscapes of the Northern Highlands on a series of gentle hikes. You will experience how the landscapes change as we hike on the east coast before traversing Scotland to discover the rugged west coast and mountains.
Accommodation in the Great Wild North
This itinerary is based in two different locations throughout the course of the week, with 3 nights in Strathpeffer and 3 nights in Lochinver.
Each of the accommodations offer King and twin rooms, with en-suite facilities. Food is of paramount importance when enjoying the Wilds of Scotland and throughout the journey varied local produce will be served up in hearty and imaginative meals. Seafood is a speciality with beef, lamb and venison also popular and of course, any special dietary requirements can be catered for.
Walking in the Great Wild North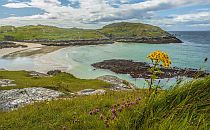 The Northern Highlands of Scotland are as varied as they are spectacular, from wide sweeping vistas of mountainous glens to ancient forests, rugged coastlines and softer rolling countryside. Steeped in natural and human history, this region offers a perfect blend of invigorating hiking, remarkable natural beauty and famous Highland hospitality.
During the course of this trip we will hike in the varied landscapes of Ross-Shire and Sutherland. As we hike, you'll see the landscape change from the glens and forests of the east to the rugged and iconic mountain vistas of the west. Along the way, you'll enjoy a taste of Highland culture with live music, a whisky tasting session and the opportunity to visit local arts and crafts shops. As we stay in deluxe hotels on this trip, we'll ensure that there is enough down time to enjoy the hotels, making this a truly relaxing wilderness break.
Based from our beautiful hotels you will set out each day with your wonderful guide to enjoy this fascinating tapestry of wilderness and history. We will hike to roaring waterfalls, white sand beaches and seek out Dolphins in the waters of the Moray Firth.
Sutherland: The Great Wild North walking holiday itinerary
Meals included each day are indicated as B=Breakfast, L=Lunch, D=Dinner.
The itinerary may be subject to change at the discretion of the Wilderness Scotland Guide with regard to weather conditions and other factors.
Day 1 – Rogie Falls and View Rock – After meeting in Inverness we will head to our first hike at the lovely Rogie Falls, enjoying a circular route through Caledonian forest and with loch views and vistas of the local area. Afterwards we arrive and settle in to our hotel, enjoying a welcome dinner in the evening. (D)
Walk details: 7km, approx 3 hrs
Day 2 – Dolphins and Devils – This morning we go east to the coast and join a boat trip to spot the local pod of dolphins in the Moray Firth. Afterwards we enjoy lunch at a local cafe and then take an afternoon hike on the coast. Along the way we will pass through the villages of Rosemarkie and Fortrose, discovering some rich and gruesome local history! (B, L, D)
Walk details: 8km, approx 3-4 hours walking
Day 3 – The Touchstone Maze & Knock Farril – Today's hike begins in forest and heads up to a recently built stone circle. We then continue on to an impressive ridge and viewpoint, finding the remains of an original Iron Age fort at the summit which enjoys wonderful views. After descending and returning to the hotel we will enjoy some live traditional music by a group of local musicians before dinner. (B, L, D)
Walk details: 7km, approx 3 hours walking
Day 4 – West to Assynt and Coigach – Today we journey to the West Coast, stopping to explore the extraordinary and unexpected chasm of Corrieshalloch Gorge. Lunch will be taken at cafe in the famous fishing town of Ullapool. Afterwards we will choose from a range of options for a local hike offering views of the amazing highland wilderness that make this area a magnet for lovers of the outdoors. We then continue on to our hotel enjoying spectacular views all the way, and from the windows of our fabulously positioned hotel in Lochinver. (B, L, D)
Walk details: 6km, approx 2.5 hours walking
Day 5 – The Old Mill & Achmelvich Beach – We enjoy a point-to-point hike along the beautiful Assynt coastline today. Starting from an old grain mill we head for the beautiful sands of Achmelvich beach, your guide pointing out the secrets of the landscape along the way. Then we walk along a quiet roads and good trails through the wild country back to Lochinver where we can explore the village and visit a famous local craft shop. (B, L, D)
Walk details: 10km, approx 5 hours walking
Day 6 – Inverkirkaig Falls & Achiltibuie – Today we take a short drive along the twisted ribbon of the coastal road to our start point. From here we follow the lovely river Kirkaig through welcome forest. All the way we enjoy improving views of the astonishing peak of Suilven and the iconic mountains of Stac Pollaidh and Cul Mor. Our objective is the tremendous Falls of Kirkaig where the river plunges with a roar into a deep ravine. Afterwards we will drive south again to the crofting township of Achiltibuie where we enjoy views over the Summer Isles, craft shops and a drink in the bar. A wonderful place to round off a great trip. We return to our hotel for a celebratory dinner, preceded by a whisky tasting. (B, L, D)
Walk details: 8km, approx 4 hours walking
Day 7 – Hiking to Little Assynt – On the way back to Inverness there is time for one last short hike. Exploring 'Little Assynt' with a hidden loch and vistas of the mountains and wilds, it's the perfect place to thank the landscape for the new memories we will be leaving with. Afterwards we will again have lunch in Ullapool before saying goodbye in Inverness. (B, L)
Walk details: 5km, approx 2 hours walking
For specific dates for 2020 – contact the holiday provider through the contact form below.
A single room supplement of £300 is charged if a single room is available.
Please contact the holiday provider, through the contact form below, for more information.