Cornwall has some of the most dramatic landscapes and scenery imaginable anywhere on Earth. Everyone agrees that it's magical here.
Cornwall; that little peninsular at the bottom left toe of England! Explore the finest coastline in the world on foot with Martin Hunt and Adventureline.
Cornwall has some of the most dramatic landscapes and scenery imaginable anywhere on Earth. If you decide to go walking here, we promise that you'll share our enthusiasm by the end of your holiday and you will find that Adventureline's unique technique connects you intimately and spiritually with the landscape, its wildlife, people, heritage and history…
Magical, remote and beautiful landscapes, famous throughout the world
Many famous writers have written novels set amongst the magical landscapes of Cornwall and also many TV companies and film makers have used Cornwall for filming – for popular productions such as Doc Martin, Poldark and Rosamunde Pilcher.
We'll take you to remote and beautiful locations – allowing Cornwall's true spirit to be fully absorbed. Everyone agrees that it's magical here. Simply walking through the landscape with time to stop and stare (and to hear about all those odd local things), you'll find Cornwall simply enchants you.
What can you expect to see and experience in Cornwall?
Walking the most incredible coastline in the world you'll discover many natural wonders: rugged and wild cliffs, secret sandy coves and occasional huge sand dunes, ancient woodlands and tidal creeks, high granite moors, pretty villages and harbours, the rural countryside and many prehistoric sites.
We think you'll love the remarkable diversity of Cornwall's stunning views, unusual rocks, glorious wild flowers, many birds and other creatures, turquoise seas, secret beaches.
And to top it all off, Cornwall has a surprising history. During our walking holidays in Cornwall, all this will be revealed with our solid local knowledge, good humour and a sense of fun.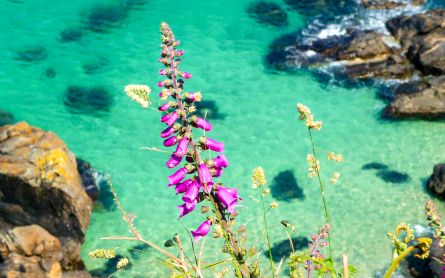 You'll visit many places you have may have heard about and always wondered why they have been written about – then you'll understand why. But better than that – you'll also visit amazing places that you have never heard about!
Making friends with walking enthusiasts from all over the world
Our groups usually number about 8 persons (plus the guide) and our guests are often from many different countries. We usually have couples and often singles too, so it's a great way for a solo person to make new friends and to feel safe out in the wilds of the countryside and on the coast.
The countries from which most of our guests come from are the UK, most European countries, Canada, USA, New Zealand and Australia. They almost always become a 'tight knit' little group of friends who often stay in touch over the years and travel together again, sometimes on one of our other International trips. We are celebrating our 32nd year in 2019.
Experience Cornwall on Foot
With good coastal accommodation and small groups, we offer the ideal opportunity to experience the wonderful peninsular of Cornwall as it really should be experienced – on foot! Check out what our guests say about us on Facebook, Google and TripAdvisor… many very satisfied customers.
You're invited!
Come and see us anytime and we promise you a holiday you will always remember as special and magical.
For more details, see our full listing on WalkingHolidayInfo: The many faces of Cornwall
Contact details
Contact:

Martin Hunt

E-mail:

Tel/fax:

+44 (0) 1209 820847

Web:

Facebook: