Walking in Croatia, an introduction
The beautiful country of Croatia is fast becoming a very popular walking holiday destination in Europe. Located in South-Eastern Europe, the country boasts an incredibly long and varied rocky coastline, mountains, many Mediterranean islands and tranquil rural countryside.
Croatia is famous for its many Nature Parks which include Paklenica and Plitvice, the two most popular areas for walking in the country. 
Croatia's mild climate means the walking holiday season starts early in spring and ends late in autumn, especially on the many beautiful islands.
Are you considering a walking holiday in Croatia? Have a look at our selection of walking holidays in Croatia.
Croatia's Geography
Croatia lies just on the other side of the Adriatic Sea from Italy, and borders on Slovenia, Hungary, Serbia, Bosnia and Herzegovina and in the far south on Montenegro. The country's terrain is quite diverse. There are plains, lakes and rolling hills in the north, and north-east, while the Dinaric Alps run north – south through the country, close to the coast. Part of the mountains are densely forested.


Around the Adriatic Sea you'll find beautiful rocky coastline all the way from Istria in the west to the far south around Dubrovnik. Croatia also boasts over a thousand islands of varying size. Over 50% of Croatia's area consists of Karst topography, leading to many impressive landforms. As a result, there are also very many caves in the country, with the deepest caves found around the Velebit and Biokovo mountains. Many of these caves are accessible and if you go on a walking holiday in Croatia, you could consider visiting some of them.

Croatia offers some excellent walking opportunities, often combining mountains with sea, such as in the Dinaric Alps.
Croatia's climate
Because of Croatia's varied geography, you'll find a wide range of climates here. All along the Dalmatian coast and on the islands a Mediterranean climate prevails with mild winters and long, hot and dry summers. Hvar is the most sunny spot in the country. The islands are generally quite dry; the further away from the mainland the drier they get. In summer, a pleasant westerly wind blows in the afternoon from the sea, bringing refreshing cooler air.
The flatter areas behind the Dinaric Alps in the east are sheltered from the Mediterranean and are influenced by continental Europe. Winters get very cold here and in summer it can be quite hot. In the mountains such as the Dinaric Alps and Velebit, there is more rainfall and summer temperatures are pleasantly low. Snow falls here in winter just like in the continental parts of the country.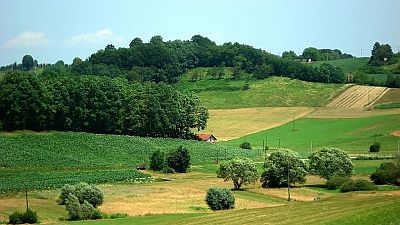 The countryside in Croatia is still quiet, rural and unspoilt and there are many ancient paths and trails to explore.
Because of the wide variety of climates in Croatia, there is almost always an area suitable for walking at any time of the year. But in general the best seasons for a walking holiday in Croatia are spring and autumn along the coast and inland areas. Late spring and summer are good for the higher mountains, but there are of course regional differences. The small scale holiday providers listed on Walkingholidayinfo.com have a wealth of local knowledge. They'll be happy to give you advice on the best timing for your walking holiday in Croatia.
The Dinaric Alps
The Dinaric Alps are the fifth most rugged and extensively mountainous area of Europe after the Caucasus Mountains, Alps, Pyrenees and Scandinavian Mountains. They were formed during the Alpine earth movements that occurred 50-100 million years ago. The Dinara, at 1,831 metres is the highest peak within Croatia's borders, and the whole mountain chain has actually been named after this prominent peak.
Typical for the Dinaric Alps is Karst landscape consisting of limestone bedrock. Limestone is a very porous rock, yet very hard and resistant to erosion. Water is the most important corrosive force in Croatia's Dinaric Alps; it dissolves the limestone by chemical action of its natural acidity. As the water percolates down through cracks in the limestone it opens up fissures and channels, often of considerable depth, so that whole systems of underground rivers and streams develop.
During subsequent millennia these erode deeper, leaving in their wake enormous waterless caves and sinkholes and forming underground labyrinths of channels and shafts. The roofs of some of these caverns may eventually fall in, to produce great deep gorges. The result is a landscape of steep jagged escarpments, through which steep-sided gorges and canyons are cleft by the rivers draining the higher slopes.
The border between the Continental and Mediterranean climatic zones lies along the Dinaric Alps. As a result the climate, habitats and species in these mountains are very varied; they consist of an interesting mix of Alpine, Continental and Mediterranean species and habitats.

The Dinaric Alps run right along the coast and offer lots to explore during a walking holiday.
Croatia's islands
All along the Croatian coast there are islands, but most of them are found in central and southern Dalmatia. In total there are a staggering 1186(!) islands in Croatia's territory, which makes it the second largest archipelago in the Mediterranean (the largest being Greece). However, only 66 of Croatia's islands are inhabited.
Most islands in Croatia have an elongated north – south shape that runs parallel to the Dinaric Alps. Many of them are small, rocky and dry, but there is also a good amount of larger islands, perfect to explore during a walking holiday. More about the best ones for walking below.
Vis Island: unspoilt and away from the crowds
Vis island used to be a military naval base and was inaccessible for tourists until 1989 which has really helped preserving its unspoilt character. If you want to spend your walking holiday away from the crowds, Vis island may be a good choice for you!
On Vis you'll find pine and carob trees, citrus orchards and many vineyards. The island is known for its good local food, locally produced wine and seafood dishes. In spring Vis island is covered in colourful wild flowers. The weather is also very pleasant then, so spring is good timing for a walking holiday to Vis island.
Brac Island: culture, history and beautiful beaches

Supetar on Brac island, one of the many idyllic islands along Croatia's Dalmatian coast.
Brac island (pronounced as Bratch) has a rich cultural and historic heritage. It also boasts Croatia's most photographed beach, the Zlatni Rat beach. Brac is one of the bigger Croatian islands with beautiful beaches and bays. Quiet Supetar is the scenic 'capital' of the island. Famous for water sports, you'll have plenty of choice for alternative activities during a rest day if you're on a walking holiday to Brac.
Mljet Island: a national park away from it all
Half of Mljet island consists of a National Park, and the island has no large towns and only a few inhabitants; an ideal location for a walking holiday away from it all. The island has a volcanic origin and boasts impressive geography with chasms and gorges, the longest being the Babino Polje. Mljet is also known for its two emerald green inland salt water lakes. Italian Benedictine Monks built a monastery here that you can still visit.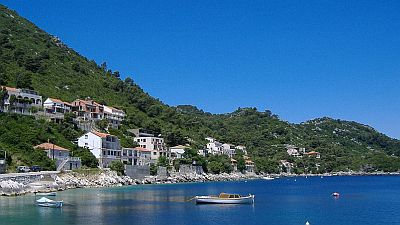 Half of the island of Mljet is a National Park.
Other Croatian islands: more mainstream
Many of the other well-known Croatian islands, such as Hvar, Korcula, Pag and Krk island are more mainstream beach tourism destinations and busy most of the year.
Istria
Istria is the largest peninsula in the Adriatic Sea. It lies in three countries, Italy, Slovenia and Croatia, but by far the largest proportion (almost 90%) is in Croatia. Central Istria has a continental climate, while the coasts are under influence of the Mediterranean. Both Italian and Croatian are spoken in this region, and the coastline is one of the most popular beach holiday destinations of Croatia. Visitors often compare inland Istria to the Provence and Tuscany. When you're walking through the area's rolling hills dotted with forest, vineyards and orchards and olive groves you see why. One of Istra's must-see attractions are the famous medieval hilltop villages such as Motovun and Labin. The region is also well-known for its good food and excellent wine.
For more information see this walking holiday to Istria in Croatia »

The old walled city of Motovun is a must-see during a walking holiday to Istria in Croatia
Croatia's National and Nature Parks
Croatia has eight national parks that cover almost 1000 square km in total. Almost a quarter consists of sea surface with scattered islands in the Adriatic Sea. In addition to Croatia's 8 national parks, there are also 10 nature reserves and 2 strict reserves in the country. The national parks are maintained and governed by individual National Park authorities.
Plitvice Lakes National Park
The most famous is Plitvice Lakes National Park, which is the oldest National Park in South-East Europe and the largest National Park in Croatia. The park lies in a mountainous region of central Croatia and is world famous for its lakes arranged in cascades. The lakes are separated by natural dams of travertine, a material built up by the action of moss, algae, and bacteria. The lakes have beautiful colors, ranging from azure to green, grey or blue. The colors change constantly depending on the quantity of minerals or organisms in the water and the angle of sunlight.
On Wikitravel you'll find more information on Plitvice National Park.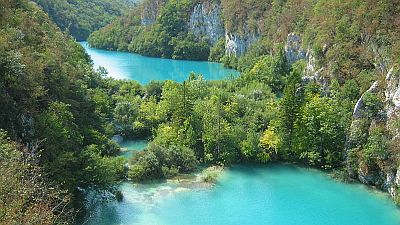 Plitvice national park, one of the most popular areas for walking in Croatia.
Paklenica National Park
Paklenica National Park consists of a dramatic Karst region on the southern slopes of Mount Velebit. Most impressive and well known are the river canyons of Velika Paklenica and Mala Paklenica. The larger of the two canyons is 14 km long with vertical cliffs rising to 700 metres.
The east part of Paklenica National Park is very different, remote and wild. The highest area of Paklenica National Park is the narrow ridge of Velebit, 1 to 3 km wide, with the highest peak being Vaganski at 1757 m. The area also has many interesting caves, of which Manita Pec cave can be visited. Walking is the best way to really get to know Paklenica. There are 150-200 km of trails and paths, both for tourist and walkers, and for mountaineers leading to the highest peaks of Velebit. The trails and paths in the Park are marked.
See Paklenica National Park's website for more information.

The wild and remote interior of Paklenica National Park
Risnjak National Park
In Croatia's most mountainous and forested region (in the North) you'll find Risnjak National Park. It is thought that the name for this national park comes from the Croatian word for Lynx, which is Ris. The Lynx became extinct in the 19th century, but has returned to the park after a successful re-introduction of the species across the border in Slovenia. The park is dominated by limestone and dolomite rocks and shows major Karst features like bare rocks, rock falls, swallow holes and caves. Interesting is also the source of the river Kupa, a bright blue pond 50 m wide that is more than 86 m deep. The flora in Risnjak National Park is an interesting mix of continental, Mediterranean, alpine and dinaric species. Large mammals such as wolf and brown bear still survive in the area.
For more information, see the Risnjak National Park website.

A mountain hut in Risnjak National Park, a fantastic area for walking in Croatia.
Mjlet National Park
Mjlet National Park lies on the most southerly and easterly of the larger Adriatic islands of the Croatia's Dalmatia region. The national park covers half of the island of Mljet, and includes forested areas, two salt lakes, a saline bay and an area of sea. The island is of volcanic origin with limestone and dolomite forming ridges, crests and slopes. More than 80% of the island is forested, and only a little over a thousand people live here.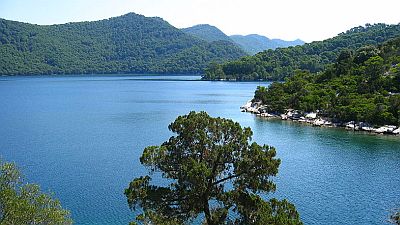 A salt lake on the island of Mljet, a National Park.
Kornati National Park
Kornati National Park is really an area of sea with 109 islands. There are no permanent settlements here, only seasonal shelters that were used by shepherds. The islands are rocky and dry, with very little vegetation. Only 5 % of the islands is cultivated, with the main land use being olive groves, followed by vineyards and orchards. Many of the localities in the island group have vulgar names. This is because when Austrian surveyors came to record the archipelago by the end of the 19th century, their local guides thought to make fun of them by making up vulgar names for the various locations…
See the Kornati National Park website for more information.

Kornati National Park consists of a group of islands in a large area of sea.
Brijuni Islands National Park
The Brijuni Islands National Park consists of a group of fourteen small islands in the Croatian part of the northern Adriatic Sea. This area was once the summer residence of Yugoslavia's president Tito, and many famous people visited the area in the past. Famous for their scenic beauty, the islands are now a holiday resort and a much visited national park.
See Brijuni National Park's website for more information.

A Byzantine fortress on the Brijuni islands in Croatia.
Krka National Park
Krka National Park is named after the river Krka. This park lies in the southern half of Croatia and comprises an area of preserved river ecosystem including a natural estuary. The area has an exceptionally rich flora and fauna, with many interesting bird species such as Osprey and Eagle Owl, as well as a healthy Otter population. Attractions in the park include several marked walking trails, sightseeing tours and boat trips. Skradinski buk is a popular area here, consisting of a large clear pool and spectacular waterfalls.
Go to the Krka National Park website for more information.

The impressive waterfalls in Krka National Park
Sjeverni Velebit National Park
On the Northern slopes of Mount Velebit you find Sjeverni Velebit National Park. This area was originally a nature park, but its status was upgraded in 1999 due to its exceptional ecological value and the authenticity of the region. In the park there are numerous ruins of so-called "summer lodges" dating back to the time when Velebit was populated by mainly shepherds and cattle farmers. Also on the coastal banks there are many ruined houses, lodges and stonewalls which are the only evidence that remains of a local population that has long since left. There are various marked walking and mountaineering trails in the area. From the mountain peaks there are beautiful panoramic views over the Adriatic sea.
For more information see the Sjeverni Velebit National Park website.

An old shepherds building in Sjeverni Velebit National Park.
Walking in Croatia
Although definitely not on the beaten track yet, Croatia is fast gaining popularity as a walking holiday destination. Croatia's extremely varied and impressive landscapes and landforms offer stunning scenery for walks, while the country's rich cultural heritage promises a lot to see and hear about.
Croatia's national parks are some of the better known areas for walking, with Plitvice Lakes and Paklenica being the busiest and most popular. Especially in high season, during the summer, it can be quite crowded there, so if you're looking for a more quiet experience, visiting these areas in spring or autumn could be a better idea.
Sjeverni Velebit National Park has some of the nicest walking in the country, and also inland Istria is a good destination for walkers, especially if you also like good food and wine. Many of Croatia's national parks have marked walking, hiking and mountaineering trails.

Autumn landscape in the Dinaric Alps, near Kuterevo, Croatia.
Croatia's best walking seasons
The best seasons for walking in Croatia are generally the spring and autumn for most areas. Firstly because you avoid the summer crowds and the summer heat, and secondly, because you can enjoy the amazing spring flora or the changing colours in autumn. Some of the higher mountain areas have a cooler climate, so the walking season here starts later and these mountains offer respite from the heat in summer too.
Already in March it is generally great outdoor weather along Croatia's coast, with spring properly arriving in April in many areas. Higher up in the mountains it can still be cooler though, and snow can linger here. October and November can also offer ideal walking conditions; they are cooler month and the autumn landscapes are amazingly beautiful.
If you are booking a holiday with one of the holiday providers that offer walking holidays in Croatia on this website, make sure to ask their advice on when it's best to travel to their particular areas. They are the locals and they know best!
Further information on Croatia and walking in Croatia
---
Croatia
Capital: Zagreb
Area: 21,851 sq. miles, about a quarter of the area of the UK
Population: 4.3 million
Currency: Kuna
More info on Croatia: