A wonderful guided walking holiday to the stunning Mediterranean island of Mallorca.
This walking holiday explores the less commercial south east of Mallorca. Here the walking is less mountainous than the north of Mallorca and, in terms of difficulty, very similar to that of Menorca. The holiday is a spectacular combination of charming and manageable walking, amazing accommodation and, as ever, great food and wine.
Accommodation in Mallorca
The base for our couple's holiday in Cala Figuera de Santanyi is the wonderful Villa Sirena and Cala Figuera Apartments. These lovely apartments are literally 10 metres from the water and all offer stunning sea or harbour views.
Cala Figuera de Santanyi itself is a former fishing village, which over the years has become adopted by people looking for a more peaceful and authentic holiday experience. Having said that, there are plenty of bars, restaurants and small shops to enjoy in the village.
From the minute you arrive at the airport you'll be looked after. All of the walks are led by knowledgeable and bilingual guides. No transport or maps are required as charter coach travel to and from the walks is part of the holiday package. It carries fresh drinking water, tea and coffee plus serve as transport should anyone need a ride before the end of the walk. This is not a self guided holiday
Hidden Mallorca walking holiday itinerary
Whilst comfortable, the walking on this part of Mallorca is totally charming and an agreeable surprise waits around every corner. During the course of the holiday, we'll walk along the coast between the resort and Ses Salines, to the sanctuary of San Salvador, around the stunning Nature Park of Mondrago and on another day we take a coach ride to walk around and visit the famous Caves of Drach. One of the walks will take place on the Island of Cabrera and, on this day, we'll enjoy a short boat ride before and after our activities. As ever all of the walks are fully guided and backed up by a recovery vehicle, include the ever popular "tea and digestive break" and all cold drinking water. Walking sticks are also provided.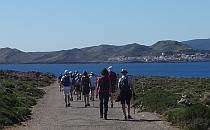 This holiday takes place for 7 days/8 nights during week of 26th April.
Please contact the holiday provider, through the contact form below, for more information.