Why would you do a walking pilgrimage? Maybe you are, like many of us, searching for something more meaningful in your life. Do you feel something gnawing at you on the inside – call it a desire or motivation – something from deep within the pit of your stomach pulling so strongly that it almost squeezes your lungs and weighs heavily on your heart? Do you ever feel that you won't be able to breathe properly again until you find some meaningful answers?
If so, then you know you have received and heard the Inner Call to Search.
You know you have to go seek some insightful answers to some profound questions. You may not know whether it's your soul calling to be heard, your heart searching for something new, or your mind needling you to break the old rhythm.
But there comes a point where it's inevitable that you have to summon up all the courage you can muster, take the plunge and commit to embarking on a pilgrimage, a vision quest, a walking meditation, to find some answers – big answers – to questions you can no longer leave unheard, ignored, undealt with. It's time to face the music and see what lies in the heart of your soul urging you to break your 'all-too-comfortable' mould and move on to the next level of your being.
A walking pilgrimage is about walking an outer footpath in order to journey within, navigating an inner trail with the aim of finding the real you – your genuine essence and guiding light. It's about digging beneath the myriad of dirt encrusted-layers of the modern world, disposing of a lifetime of stored fears, foibles and fallacies, unearthing some ancient and innate inner truths, shedding the dusty dross of the material world to reveal and lay bare the reborn majesty of the authentic you. Furthermore, when we commit to a pilgrimage, it's as if we enter a contract with ourselves to walk along healing and transformative pathways for ourselves, the earth, and all living beings.
If discovering more about the inner you appeals, then you are more than ready and ripe for a soul-led walking pilgrimage.
There will be 2 nights' accommodation at the Razès Gîtes (unless extensions are requested), the home of all our walking holidays, nestled in a remote and peaceful village in the heart of the unspoilt Razès, Pays Cathare in South West France. Depending on the size of the group, a maximum of 2 people will be sharing a gîte.
A further 2 nights will be spent in 2 separate gîtes d'étape along the route: 1 in the historic Cathar town of Foix and 1 in the Cathar village, Roquefixade. These two accommodations will be dormitory accommodation, bunk beds are usually avoidable.
Walking in beauty – and recognising it in all things – is powerfully humbling, transformative and healing. So where better to undertake such a sacred journey than on hallowed lands where the beauty of the past and the present escort you every bit of the way on your personal journey of discovery? In the Pays Cathare, you will be walking in the footsteps of the legendary giants that were the Cathare people, retracing their revered paths through ancient forests, over open prairie and scrublands, down unspoilt valleys and ravines, and up to the ruins of three of the most acclaimed Cathare castles where you can pay respects to their lost plight while heeding your own inner spirit seeking enlightened expansion.
The landscape is diverse and breathtakingly rich in indigenous flora and fauna where wild orchids and birds of prey in particular abound. You will experience time for silent reflection, walking meditation, non-judgemental conversation and plenty of personal discoveries to be made whether of an emotional, spiritual or historic basis, but all supported within the beauty of the natural landscape surrounding you. In heeding your soul's Call to Search, some fundamental findings that enhance your inner peace and happiness are most assuredly just a few of the outcomes you can expect to receive from a walking pilgrimage.
If you are driven to learn more about your walking pilgrimage in the sacred lands of the Pays Cathare, get in touch with your walking pilgrim guide Jo for more details.
Call of soul walking holiday itinerary
Typical 5 day/4 night programme (extra days/nights are available):
Day 1: Arrival
Pick-up from Carcassonne or Toulouse airport.
Return to the Razès Gîtes for an evening meal.
Introductions and briefing on the next three days' walking pilgrimage: route, distance, kit requirements.
Discussion: how do we see ourselves as part of nature and the natural world?
Packing.
Guided evening meditation.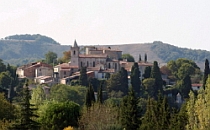 Day 2:
Silent morning meditation before departure.
Leave for Foix.
Exercise: engaging with the energies of the land.
Visit castle: walking meditation around the castle grounds.
Discussion: how and why should we re-wild our 6 senses? What are the benefits?
Stay at gîte d'étape, Foix.
Discussion of day's enlightenments.
Silent evening meditation.
Day 3:
Silent morning meditation before departure.
Pack and walk to Roquefixade.
Exercise: mindful connection with the indigenous flora and fauna (ancient trees, wild orchids and birds of prey abound).
Visit castle: sitting/standing meditation in the grounds of the ruins.
Discussion: de-wilding the mind, rewilding the soul in nature.
Stay at gîte d'étape, Roquefixade.
Discussion of day's enlightenments.
Silent evening meditation.
Day 4:
Silent morning meditation before departure.
Set off to Montségur.
Exercise: compassion through connection to the past, present and future.
Visit castle: silent sitting meditation in the grounds & guided walking meditation.
Discussion: answering the call of the soul.
Pick up and return to Razès Gîtes.
Discussion of day's enlightenments.
Synthesis of pilgrimage outcomes.
Guided evening meditation.
Day 5:
Silent morning meditation.
Gentle walking meditation in the Razès (Lac de La Pène)
Lunch
Goodbyes
Drop-off to Carcassonne or Toulouse airport
Walking Pilgrimage Group Dates for 2020:
7th-11th May
21st-25th May
25th-29th June
Otherwise open from April through to end of October for individuals, couples and small groups. Other walking holidays are available. Check our website for more details.
Please contact the holiday provider, through the contact form below, for more information.