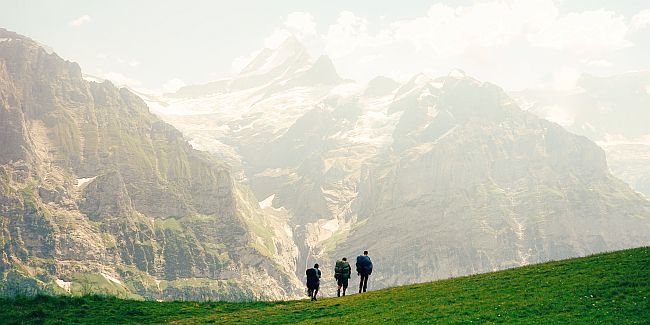 Going on a walking holiday with friends can be the experience of a lifetime… if you do it right
Being outside in the fresh air, exploring new places on foot, seeing things that are so often missed by other people – walking holidays are amazing. However, like everything else in life, they are even better with friends. If you're planning your first ever walking holiday with friends, here are six top tips.
Manage expectations
Travelling with friends can either be a magical time, or it can put a little strain on your relationships. One way to make sure your experience is the former is to discuss what you all want to get out of the trip in advance. Are you planning on walking every morning or are you going to mix it up? Are you planning your routes in advance or are you going to play it by ear? Will someone take the lead? Iron these things out before you go for a much more magical time.
It's okay to spend time apart
Just because you are travelling as a group, that doesn't mean you have to do everything all together. It's important to have some alone time where everyone can enjoy their own company. If you have a bigger group, it can be beneficial to split off into smaller groups of people who want to do a specific activity. Everyone meeting up for dinner in the evening will mean that you're all refreshed and excited to share stories of the day.
Decide what to pack between you all
One of the best things about travelling as a group is that you can share out the responsibility of things to bring. People will need their own of some things, like good walking boots. However, one person could be in charge of bringing enough emergency supply for everyone else, and another person can handle snacks.
Keep each other safe
You don't want any injuries while walking so it's important everyone has appropriate footwear and you stock up on plasters and painkillers. If you're walking in the dark, be sure to wear something reflective, carry a torch and be extra cautious – you don't want to have to claim on your insurance on the first day and spend the rest of your trip in plaster!
Communicate
An open channel of dialogue makes for the best relationships. Make sure everyone in the group feels able to share their thoughts and feelings and that one person doesn't end up accidentally taking over. Discuss things such as budgets beforehand to avoid any nasty surprises, such as someone not realising how much is going to be spent on meals.
According to The Secret Traveller by 1Cover, when you're travelling with other people you are going to have to compromise. Learn how to compromise and communicate early on, to avoid any difficult feuds.
Focus on fun
Remember that walking is to be enjoyed and isn't a form of torture. Although it is good to push yourself sometimes, that doesn't mean you have to be exhausted at all times. Make sure everyone in your group feels able to go at their own pace, and support one another with going that extra mile, but remember that it is okay to rest too! You'll have a much better time and be able to appreciate more of the scenery if you are not constantly trying to catch your breath.
Once you find a good group of friends with whom you like to go on walking holidays you will want to spend all your holidays walking with them. It's a lot of fun and a great way to be active.
Do you have any other top tips for going on a walking holiday with friends? Leave them in the comments below.