Walking holidays in Greece
A mild Mediterranean climate make Greece a top year-round walking destination in Europe.
The Greek are a warm and welcoming people, proud of their beautiful country. With so many islands and coastal landscapes, and a highly mountainous interior, Greece is a wonderful place for hiking… a walking holiday destination with something for everyone.
FEATURED WALKING HOLIDAYS IN Greece
Browse the Greece Walking holidays
Start browsing the walking holidays by exploring the map below, or scroll further down to the holiday descriptions. You'll find both guided and self-guided holidays.
All these holidays are organised by independent small-scale walking holiday companies, and run by people with a lot of local knowledge and enthusiasm for their country and region.
They look forward to help organise your walks in Greece!
Walking in Naxos, Small Cyclades & Santorini
Guided walking holiday in Greece
Walking holiday in Greece with an eco focus. Starting out on Naxos, the largest and most diverse island of the Cyclades. Hike mountains, valleys and plateaus. Then island hopping a group of small islands called the Small Cyclades. These are a small haven of peace where you can find Greek hospitality and traditional culture.
« Tap dot for more info ...
Ionian island of Corfu
Guided walking holiday in Greece
Through our carefully planned guided walking tour our guests will experience the beautiful, forgotten trails of Corfu's landscape as well as discovering Old Town's Italian architecture, Byzantine history and cobbled streets.
« Tap dot for more info ...
Footscapes of Crete
Walking holiday with both guided and self-guided options in Greece
A week of self-guided hiking on Greek's largest island: Crete. Excellent walking with mild Mediterranean climate and varied landscapes. Guided walks also possible. Choose from a wide variety of excellent walks between 6 and 12 miles each.
« Tap dot for more info ...
Trails & Secrets of Amorgos Island
Walking holiday with both guided and self-guided options in Greece
Amorgos remains an island off the beaten track; still unspoiled from mass tourism. This beautiful island has 7 officially marked paths for hiking in mountainous terrains reaching the mountain tops, and many other ancient trails and paths to be explored on foot. Accommodation in luxury spa hotel on the coast.
« Tap dot for more info ...
Self-Guided Walking Holidays in Greece
Walking holidays in Greece
When you think about Greece as a destination, two things immediately jump out. The first thing is the countries extraordinary richness in coastal landscapes to explore on foot. There are more than 1400 islands here, and the total coastline is one of the longest in the world! The country is also very mountainous, with more than 80% of the territory having significant relief. Mountains and coast, perfect ingredients for varied and interesting walking holidays!
Most well-known of the mountains is probably the Olympus Mountain range close to Thessaloniki. But also the Taygetos, Pindus and Pelion mountain ranges are extremely good walking territory. 
A walking holiday on a Mediterrenean island
When you are looking for an island walking holiday, you are spoiled for choice in Greece with so many islands. They are normally divided into the Ionion islands in the west and the Aegean islands in the east. Read more about them in our article about the Greek Islands.
Special walking holidays with small-scale businesses
We aim to present a varied selection of walking holidays, all offered by small-scale independent companies. We believe that these local experts will give you an unforgettable time on the paths and trails in Greece!
We wish you a great time exploring Greece on foot, and would love to hear more about your experiences. Photos also welcome of course! Please contact us through [email protected].
For more information on the country, climate, the islands, national parks and mountain ranges, see our article walking in Greece.
Walking holidays in other European countries
Also interested in walking holidays in other countries? Start from the homepage to browse all the walking holidays in Europe and the UK.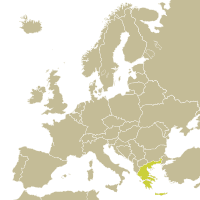 Greece
Capital: Athens
Area: 50,944 sq. miles, about half of the area of the UK
Population: 10.8 million
Currency: Euro
Walking in Greece
A country rich in historical heritage, with fantastic sunny climate; Greece is a classic holiday destination.
From hundreds of beautiful island to impressive mountain ranges and cultural sites, there is a lot to explore in this special country in the Mediterranean.
Also read our article about walking in Greece for more information about this lovely country.
---